Wednesday, May 6th, 2020
First, check out the Morning Brew's colorful state-by-state tracker of closures and re-openings.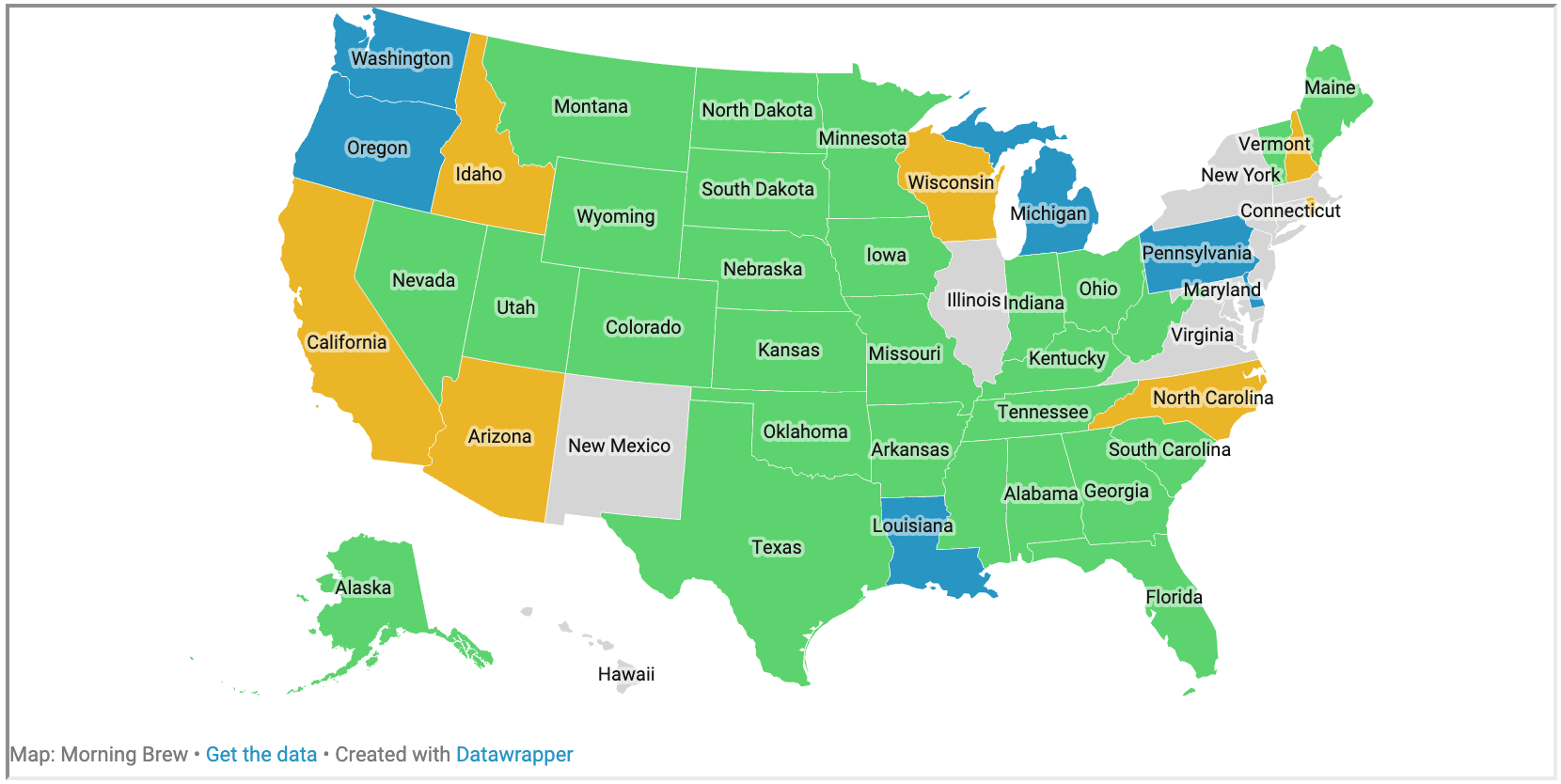 In good news for those who want the economy to reopen coffee shop by coffee shop, Starbucks is expected to open its doors in 85% of its shops, but with certain protocols in place.
And, though total household debt climbed by $155 billion in the first quarter of 2020, credit card debt (the most serious of all debt) dropped by $39 billion. Silver lining?
Tuesday, May 5th, 2020
Carnival cruises plans to re-start sailing August 1st, and as an incentive to get people on the ocean once again, is offering $28 / night fares.
Monday, May 4th, 2020
Check out the Apple Mobility Trends Report for a glimpse into how people are venturing back out into society. As restrictions are beginning to ease, people are starting to drive more and test those public waters once again.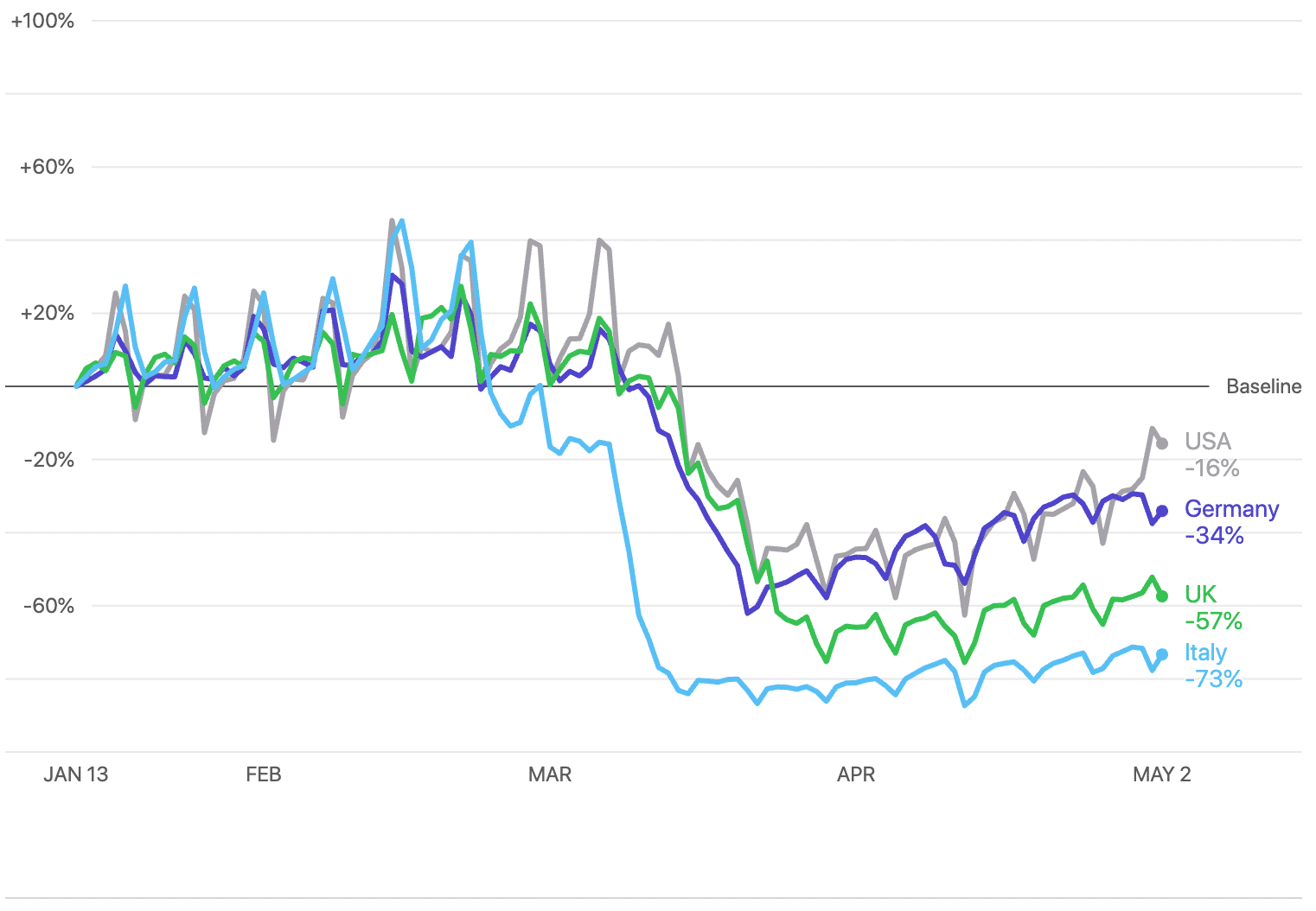 Thursday, April 30th, 2020
More than a third of the U.S. population live in states that are beginning to ease their quarantine restrictions by opening up select businesses – with restrictions, of course. 13 states.
But, according to CNBC, this also means that nearly 2/3rds of the population still live in states with no re-open date for state businesses like restaurants, bowling alleys and other stores.
The bad news is that Lyft is laying off almost 17% of its workforce – or nearly 1,000 employees, after going public just about a year ago. It furloughed 288 workers. Boeing also said it will reduce its workforce, this time by 10% or 160,000 employees.
Wednesday, April 29th, 2020
If you are getting a bit antsy with staying home, you definitely are not the only one. In this opinion piece on Business Insider, Anna Miller thinks that "stay at home" orders are poorly worded, and people should be able to venture outside their homes while taking basic precautions to keep from spreading the virus.
Monday, April 27th, 2020
Welcome to Monday, the day that the Paycheck Protection Program restarts with a fresh $320 billion.
The New York Times – usually not a publication I look to for balanced and interesting insight, published a pretty cool little tool to help us track states and their respective pandemic restrictions (such as stay-at-home orders), as well as re-openings.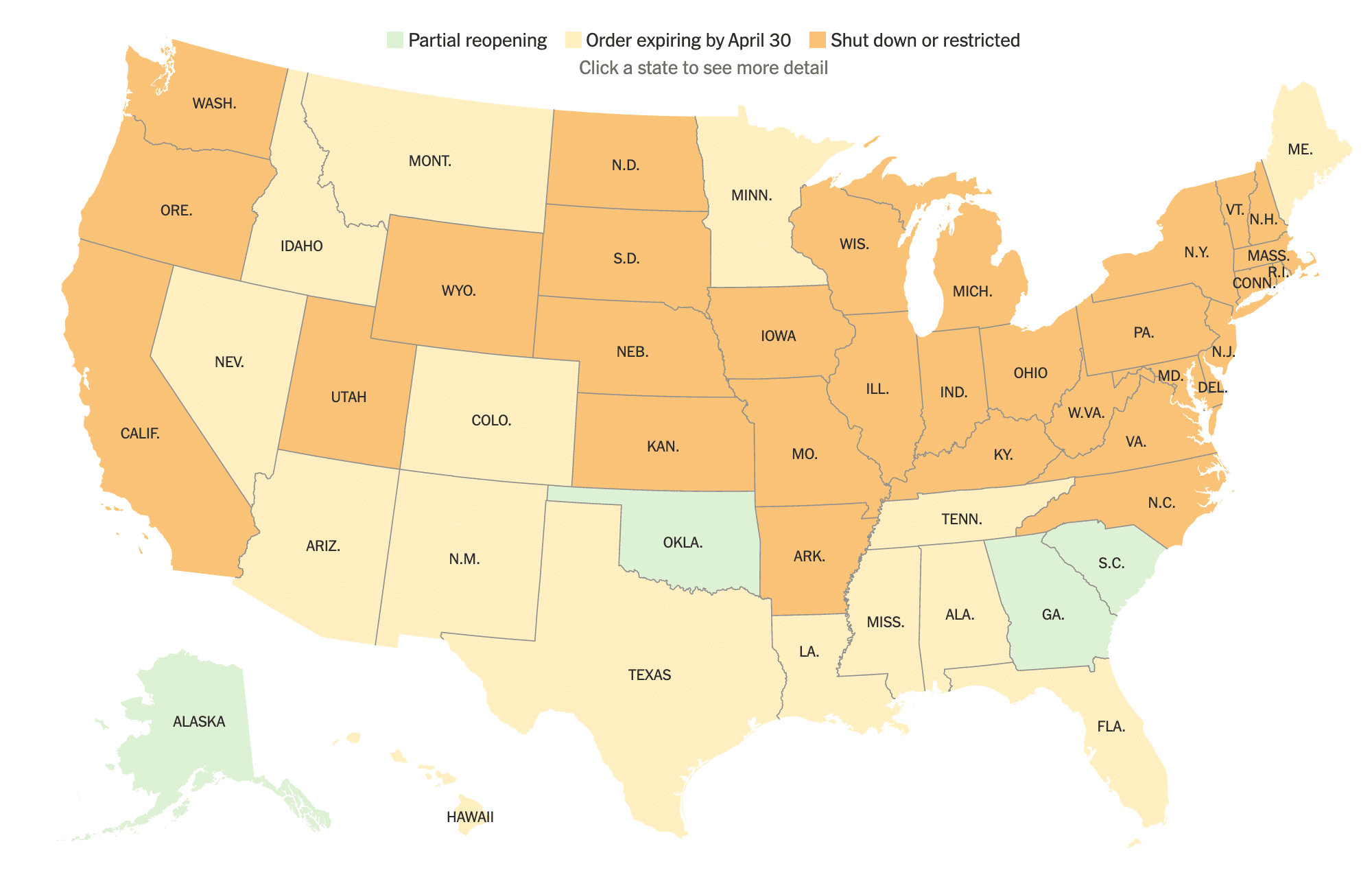 Friday, April 24th, 2020
After much uproar, Ruth's Chris Steak House, who operates more than 100 steakhouses across the United States and managed to extract $20 million from the Paycheck Protection Program – a program designed to help small businesses meet payroll demands, will return the money.
"We intended to repay this loan in adherence with government guidelines, but as we learned more about the funding limitations of the program and the unintended impact, we have decided to accelerate that repayment. It is our hope that these funds are loaned to another company to protect their employees," CEO Cheryl Henry said.
Thursday, April 23rd, 2020
Well, the thing that most of us knew would come…is expected to come today. The House of Representatives are anticipating passage of another $500 billion in stimulus aimed at small businesses and hospitals.
Also, Harvard has reversed its course after saying that they needed $9 in stimulus money that was earmarked for small businesses – eventually caving under pressure from the President and the public.
Wednesday, April 22nd, 2020
Welcome to Earth Day 2020, where CO2 emissions have been slashed nearly 8% and the air has never been cleaner – at least, compared with Earth Day 2019. If there's any silver lining hidden in the quarantine mess, it's fewer cars on the road and fewer factories billowing out smoke 24/7.
Tuesday, April 21st, 2020
Don't worry, it looks like even more government money will be on the way – we just don't know when. Washington is continuing talks of freeing up another $450 billion for small businesses and hospitals. No word yet on whether "small businesses" actually means "any business" – per our discussion yesterday.
Some southern states will begin easing lockdown restrictions for certain businesses like gyms, bowling alleys and salons starting Friday, provided sanitary specifications are met.
George says: Same.
In a clever ploy to test a mass number of workers for Coronavirus, Amazon has begun using thermal cameras in its warehouses across the world. The virus has been reported in at least 50 of Amazon's warehouse locations.
Monday, April 20th, 2020
Apparently, an agreement is close that would provide another $310b, on top of the initial $350 billion that has been depleted, to help small businesses with fewer than 500 employees stay alive during the pandemic.
One of the reasons why the program has run dry so quickly?
Larger companies are getting their hands on small business loans, too.
According to the Buzzfeed article:
"Sandwich maker Potbelly and Ruth's Chris Steak House successfully obtained loans worth $10 million and $20 million, respectively, according to filings this week with the Securities and Exchange Commission (SEC). Taco Cabana, which has at least 164 stores across the country and is owned by parent company Fiesta Restaurant Group, also received a $10 million loan."
Saturday, April 18th, 2020
As I reported on Wednesday, not every industry is being hit hard with layoffs and furloughs. In fact, a slew of businesses in a variety of sectors are doing quite well, like Walmart.
Due to a massive increase in in-store traffic – and mainly a result of quarantine restrictions systematically closing down Walmart's smaller mom-and-pop competitors, the Chinese-goods giant will be hiring 50,000 more workers.
Friday, April 17th, 2020
Well, the $350 billion small business loan program has officially drained its coffers of cash, leaving a ton of loan applications in limbo.
Trump has relinquished control over the quarantine to state governors and has allowed them to establish their own guidelines and re-open certain businesses and group areas at their discretion. Though, Trump did include a 3-phase guideline:
Phase 1: Small number of businesses and theaters can open
Phase 2: Schools and travel can re-start, and
Phase 3: Social interactions can resume once again
Thursday, April 16th, 2020
It looks like Germany is slowly getting back to work as Chancellor Angela Merkel begins to ease quarantine restrictions.
And if you're keeping score, I reported on Saturday that Texas will begin lifting some restrictions. And, construction workers are back at it in Spain and some kids are schooling again in Denmark.
Wednesday, April 15th, 2020
Not every industry is being hit by the Coronavirus. If you are looking for work, there are a slew of industries still hiring.
Remember that not all industries have been hit by the pandemic. In fact, several sectors of our economy are thriving, like Amazon. Recently, Amazon announced that they are opening 100,000 new opportunities within the company and investing over $350 million to boost pay by $2 an hour.
CVS is looking to fill about 50,000 full-time positions, too. Big retailers like Walmart have been inundated with customers as virtually every other competitor has been shut down, forcing the giant to hire another $150,000 workers. Know tools? Ace Hardwares across the United States are looking to fill all types of positions.
Also, many grocery stores are looking for additional help including Kroger, Safeway and Meijer.
Not into blue-collar type work?
If you're a teacher, online schools like OutSchool are looking for instructors as demand for learning over the Internet continues to skyrocket. If you have technical skills, Zoom has many roles to fill, as does Slack.
If you like to drive (and don't mind spending time in grocery stores), Instacart is looking for more than 300,000 service shoppers across the country to meet increasing demand.
And, this only scratches the surface of industries that are actively hiring. Suffice it to say that if you're looking for a job, there are industries who are scrambling to meet an unexpected increase in demand.
Monday, April 13th, 2020
Looks like we have a COVID-19 drug that is showing promise of treating the deadly airborne killer.
Also, Burning Man cancels the 2020 festival.
Saturday, April 11th, 2020
Texas will begin easing Coronavirus restrictions by allowing businesses to reopen, but promises to lift the restrictions in a "safe" way. Looking forward to seeing how that works out.
Friday, April 10th, 2020
Think we've gone a bit overboard on shutting down businesses during the pandemic? What about golf courses and landscaping-type businesses where proximity to other people can be kept at a distance? Here's an opinion piece from someone who thinks we should give these businesses a chance to survive.
On Wednesday of this week, the Transportation Security Agency (TSA) screened just 94,931 people, which represents a drop of an astounding 96% compared to a year ago, bringing us back to 1954-era air travel. I'm surprised that almost 100,000 people are still traveling.
Thursday, April 9th, 2020
Check out this super cool tool that lets you search based on your location for current Coronavirus numbers and a graph to help you visualize how your area is stacking up in the country.
On Monday, I talked about how lower pollution levels could be seen from NASA's satellites. And now, the Himalayas are visible for the first time in 30 years for precisely the same reason.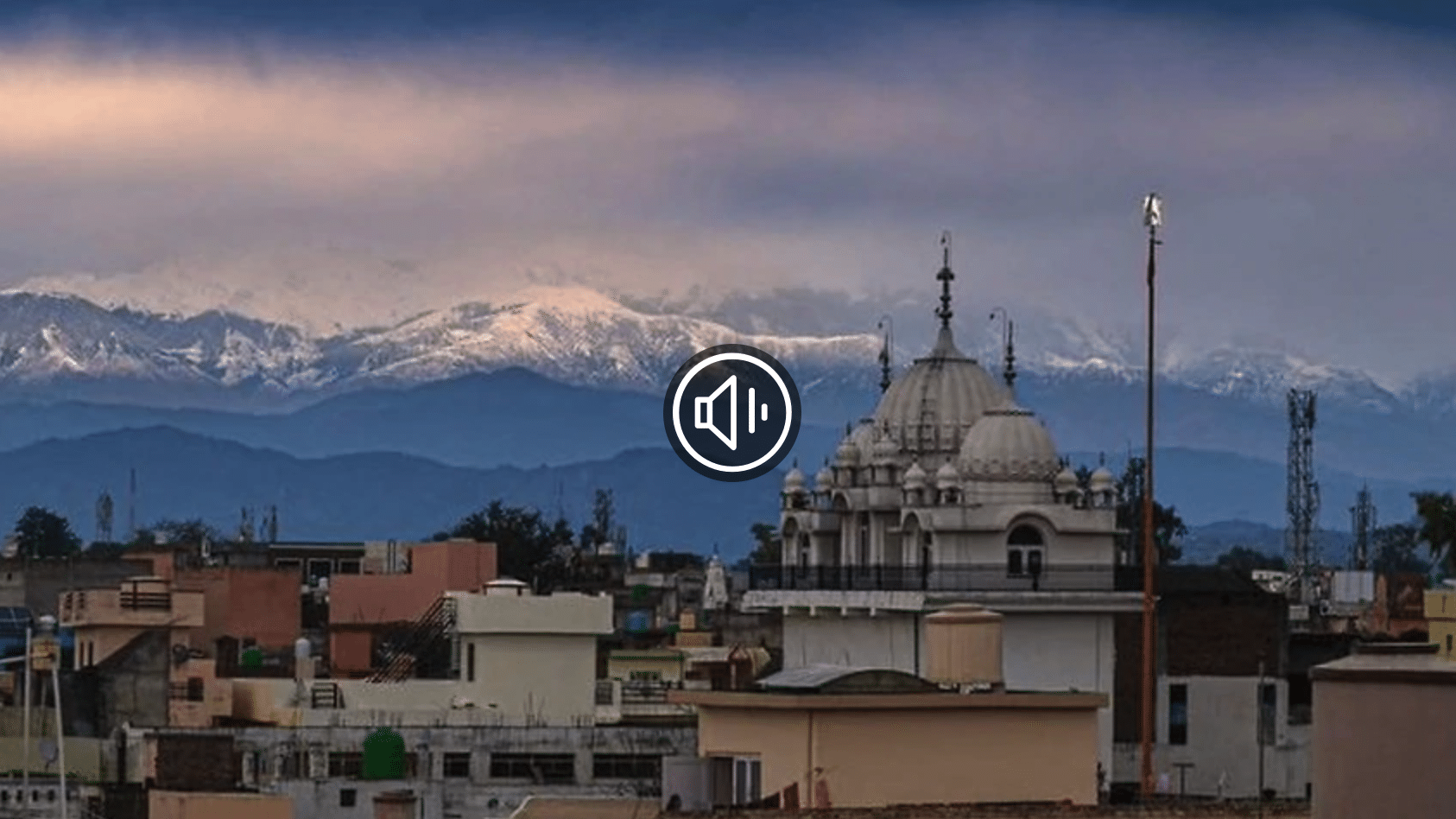 In a nearly $500m contract from the Department of Health and Human Services, General Motors will manufacture 30,000 ventilators to help replenish the national stockpile by the end of August.
Who knew that it would take a little thing like the national quarantine to skyrocket Disney Plus memberships well beyond their initial expectation? The service has surpassed 50 million subscribers as folks across the country look to online streaming to pass the time.
Broadway in NYC will remain closed through June.
Wednesday, April 8th, 2020
Over 15,000 hotels across the country have pledged to support our nation's frontline healthcare workers by donating hotel rooms, though finding these hotel options are only available to government officials. Still, that's pretty awesome.
After a stunning number of loan requests, the U.S. Treasury department has requested another $250 billion for the small business relief program, which was a part of the Coronavirus stimulus package passed by Congress last month.
Norway is beginning to ease quarantine restrictions as universities and some colleges are slated to start re-opening their doors at the end of April.
Walgreens will open 15 drive-thru Coronavirus testing sites later this week across Arizona, Florida, Illinois, Kentucky, Louisiana, Tennessee and Texas.
Tuesday, April 7th, 2020
Yesterday, the Dow surged over 1,600 points over hopes that we have seen the worst from Coronavirus. This morning, optimism continues as the Dow is up over 800.
If you're an Uber driver, then you'll probably like this. An app Called Work Hub will link up Uber drivers with similar driving-related opportunities like deliveries and Uber Eats as demand for the traditional Uber service has steeply declined.
U.S. airlines will extend loyalty benefits into 2021.
If you're looking for ways to prevent your kids from accessing inappropriate content on Netflix, here is how to use the Netflix parental controls.
Monday, April 6th, 2020
If you don't need your government stimulus check, here's an article with alternatives for putting that money to good use.
If there is a silver lining anywhere in this COVID mess, it's pollution. That is, the dramatic reduction in pollution since people all over the world began driving less and staying home more.
Check out this image from NASA on the striking difference.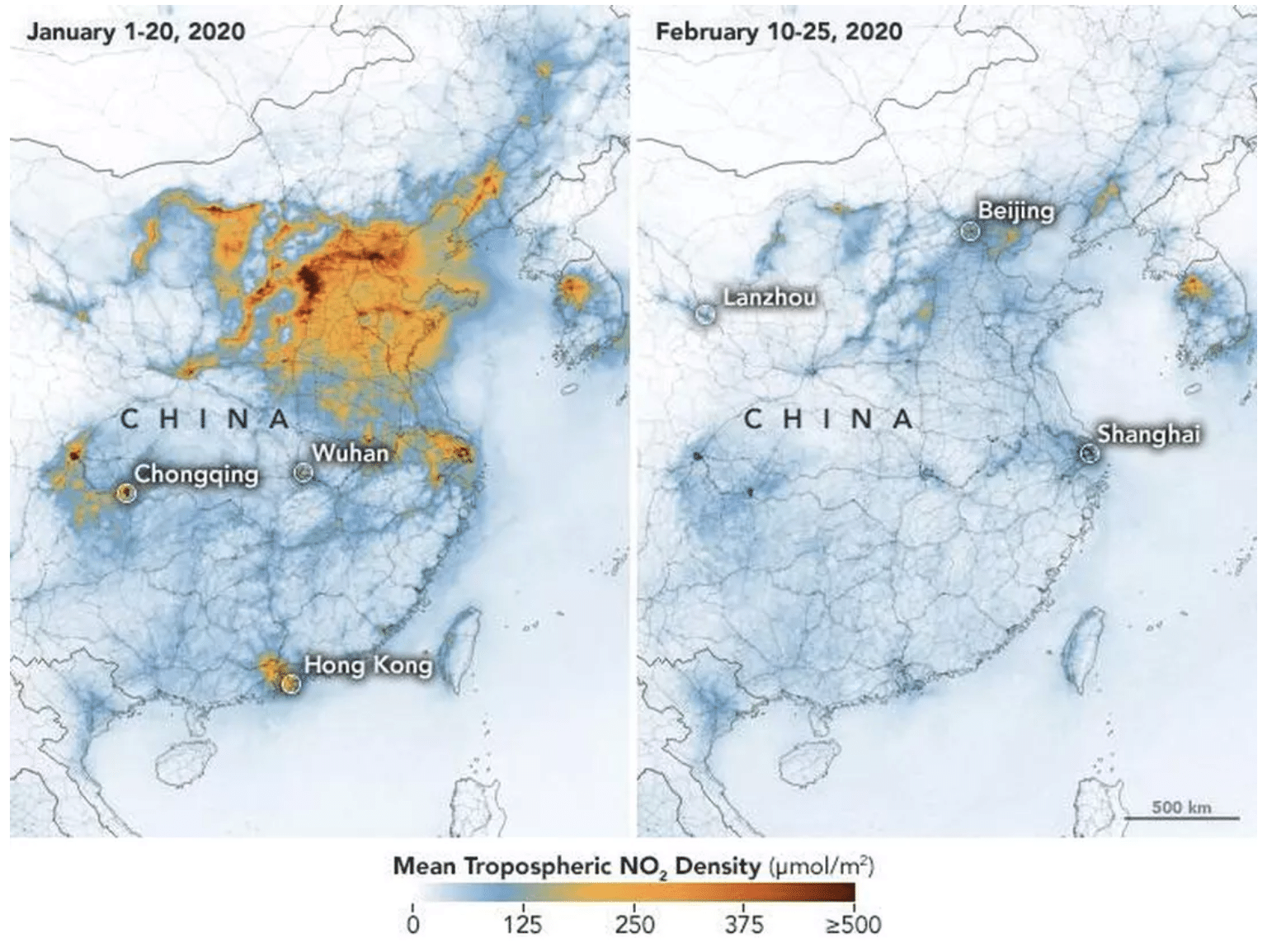 And, there is an equal difference over parts of Europe.
Also, check out this Facebook group started to help feed frontline healthcare workers as they battle this pandemic.
Sunday, April 5th, 2020
This guy living up in the Colorado mountains has been social distancing for 50 years. Here are his best tips.
Believe it or not, a 4-year old Bronx Zoo tiger has tested positive for Coronavirus after developing a dry cough.
Saturday, April 4th, 2020
Google has been using location data from cell phones to show which places are complying with stay-at-home orders. Google has published this data on their COVID-19 Mobility Report page.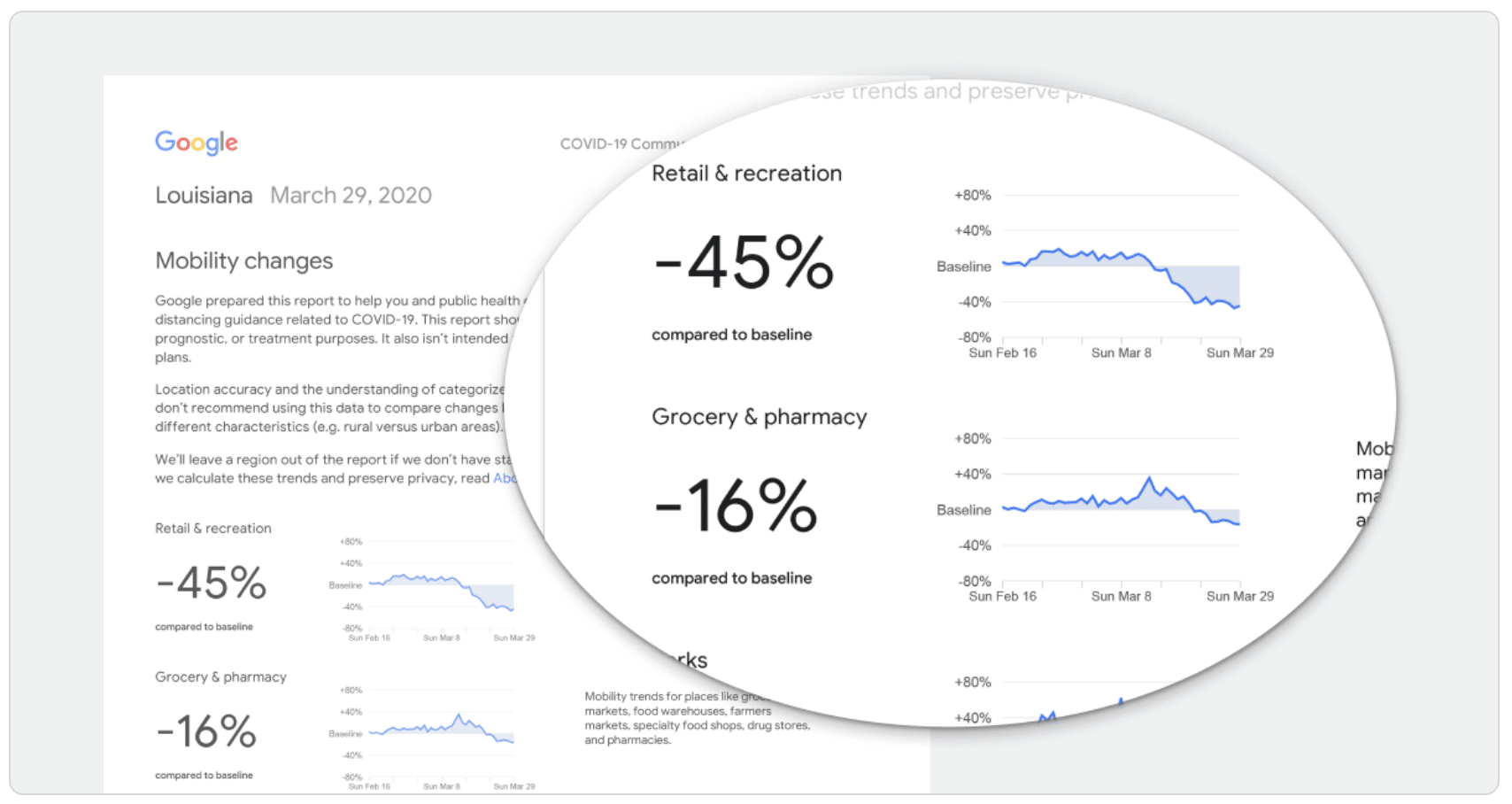 Here are some super interesting numbers since the start of the mass quarantine.
Currently very much unsure if this is a good thing or not, but alcohol sales have skyrocketed nearly 55%.
According to Comcast, peak Internet traffic has increased by 1/3rd and 24% more data over WiFi has been used on the Xfinity network.
A record number of Instacart and grocery delivery app downloads, too. Oh, and online gaming has made a dramatic increase.
Friday, April 3rd, 2020
HBO is offering 500 free hours of streaming to help you pass the time at home.
GOOD NEWS: A "mystery mom" in Maryland is leaving free bagged lunches at a busy traffic circle for anyone who needs it, with a sign that reads "Made with love by a neighborhood mom".
GOOD NEWS: 4 NBA players who have contracted and beaten COVID-19 are donating blood for a promising new treatment called "convalescent plasma" that could help high-risk COVID-19 patients recover from the deadly virus.
According to the Associated Press, the U.S. government will begin distributing stimulus money beginning in mid-April for those with direct deposit information on their 2018 or 2019 tax returns. Those without direct deposit info may have to wait until August before getting a paper check.
Thursday, April 2nd, 2020
Surround yourself with positive people, not toxic forces. Positivity is infectious. Use this time to evaluate who your friends are and whether or not they are an uplifting influence in your life.
Keep those that are.
GOOD NEWS: On Facebook, the RVs 4 MDs group aims to match up frontline healthcare workers with RVs for temporary housing to limit exposure and spread of Coronavirus. Very cool!
GOOD NEWS: Venmo helped a sister and her best friend lift each others spirits, and is encouraging others to do the same.
More Twitter, check out these people who found a clever and unique way to celebrate a birthday in Arizona.
Need a little inspiration? Check out #ThankfulThursday.
Wimbledon is officially canceled for the first time since WWII.
During the month of March, our online streaming has increased 85% compared to the same month last year, according to Nielsen.
Remember, you can work so incredibly hard for a company, spend long hours at the office, go the extra mile, live and breathe your job and pour your entire life into the company…but once things get bad, they might throw your butt out the door to save costs.
Moral of this story? Resist getting emotionally attached to your JOB. Love your work. Love what you do.
But, don't love your job.
Wednesday, April 1st, 2020
GOOD NEWS: After canceling their wedding, a Georgia couple decided to donate their entire lot of flowers to cheer people up.
GOOD NEWS: In Spain and Italy, people applauded healthcare workers from their balconies. How cool!
GOOD NEWS: Check out some of the coolest good news stories of things happening around the world.
After shedding almost 1,000 points today, the Dow futures are up over 100 points. Volatility will continue for months.
According to Carnival Cruises, 6,000 cruise passengers remain stuck on ships at sea, waiting for the virus to subside. And if you're into the money side, Carnival's stock is down 75%.
Following a string of national and state park closures, one of the most well-known national park in the world, Grand Canyon National Park, has closed indefinitely.
It looks like all that time we're spending indoors due to the quarantine might be helping reduce the virus's spread.
The U.K. government will release an opt-in "contact tracking" app that will detect and track carriers of the Coronavirus (once the quarantine has been lifted). Yeah, because absolutely nothing could possibly go wrong with that kind of power.
Sony has delayed nearly its entire movie lot until 2021.