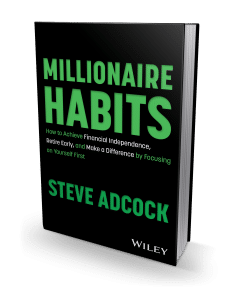 Releasing January 2024, my new book Millionaire Habits teaches you the roadmap to becoming a millionaire using the simple daily habits of millionaires and focusing on yourself.
Focusing on yourself isn't selfish, and airlines already know this. Always put your oxygen mask on first before helping the person next to you.
Why? Because you can't help if you lose consciousness.
The same theory applies when building wealth and making a difference in your life and communities.
By focusing on yourself first, you build a stronger foundation to give back, make a difference and build more wealth than you ever imagined. I will teach you how.
Pre-Order Millionaire Habits Now
Pre-order your copy of Millionaire Habits at these fine booksellers:
Stay updated with the release date and learn what it takes to become a millionaire in my free email newsletter.