This year, Twitter released its first ever subscription service called Twitter Blue. Twitter Blue offers subscribers "premium" features on the Twitter app including one of the most-requested features over the past several years: the ability to edit or undo tweets.
As of this writing, Twitter Blue is available to most Twitter users in the U.S., Canada, New Zealand and Australia for a small monthly fee.
But, is it worth it?
Twitter Blue's Features
Twitter Blue's blog post breaks out all the features of the subscription program, including:
Tweet Undo/Edit
Bookmark Folders
Thread Reader Mode
Custom Navigation
Application Icons
Top Articles
Ad-Free News Reading
Is Twitter Blue Worth the Cost?
I've used Twitter Blue for some time, now. And, whether or not it's worth it for you will depend very heavily on how you use Twitter. Let's break down the features of Twitter Blue.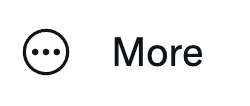 It was easy to sign up for Twitter Blue. On Desktop, Twitter Blue is available after clicking the More button on the lower left of the navigation. Twitter Blue will be an option.
After clicking on 'Twitter Blue', you'll get a screen like this.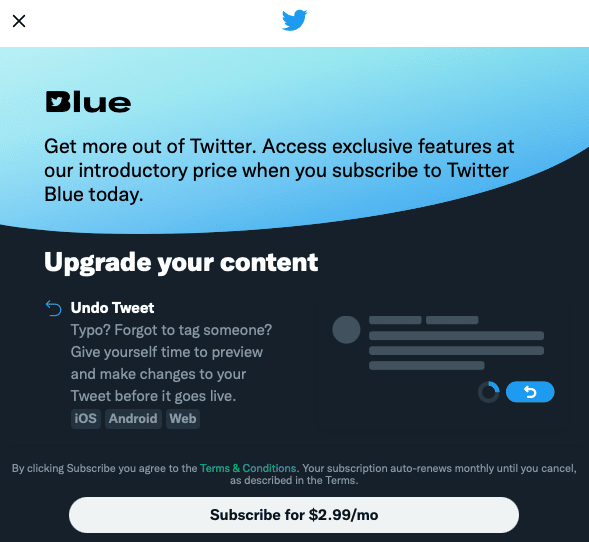 After setting up your recurring $2.99 subscription for Twitter Blue, you're ready to start using the features of the new service. Let's take a look at Twitter Blue's features.
P.S.: If you don't see the Twitter Blue link, then it might not be available in your location.
Access Twitter Blue's settings by clicking the 'More' button, then on Twitter Blue.
The Undo/Edit Feature
The ability to undo or edit a tweet is one of the most-requested features of Twitter. And while this feature works, it's also not a "true" edit/undo.
How it works: First, set up what type of tweets you'd like this feature to work on (ie: Original Tweets and/or Replies). Then, select your desired "undo period".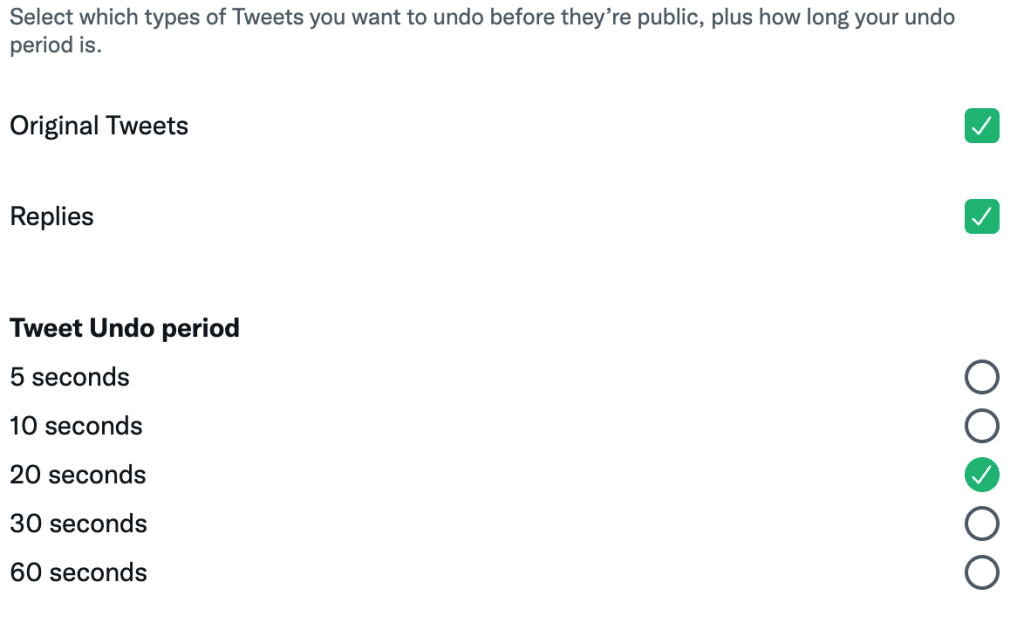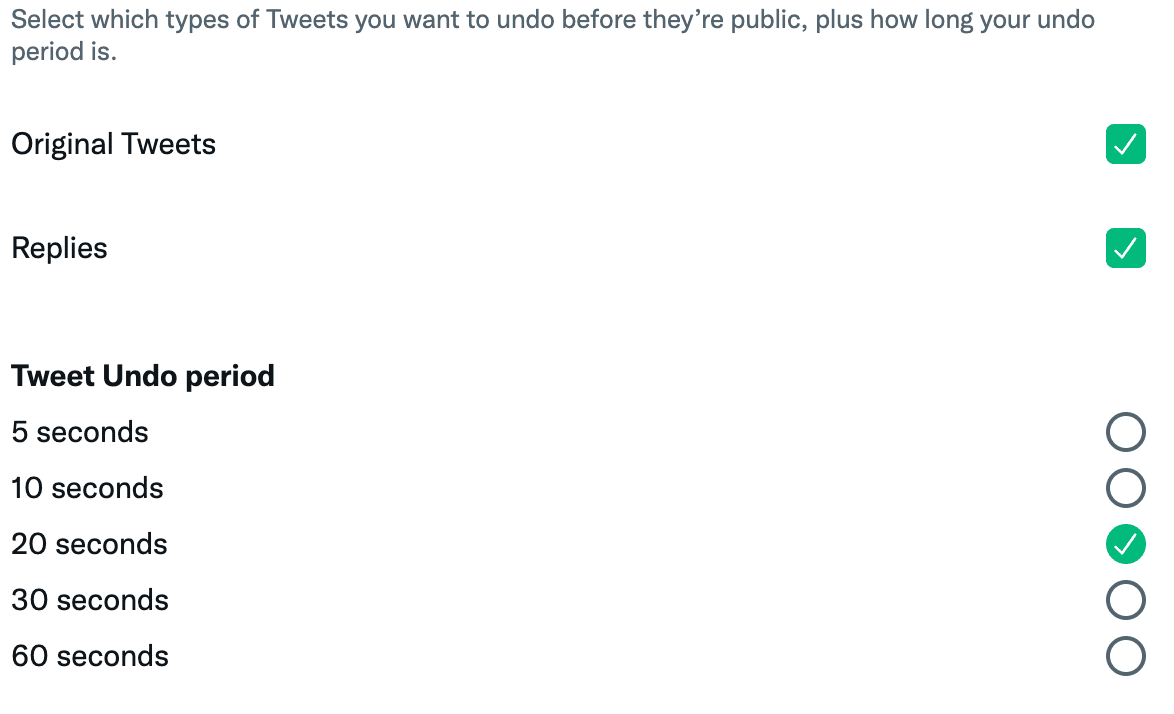 Then, you'll have an opportunity to edit or delete a tweet for that many seconds before the tweet actually gets posted on your timeline.
Here's how it will look when you post. The timer icon on the left will count down how many seconds you have before Twitter posts your tweet. You can choose to 'Send now' or 'Undo', which will allow you the opportunity to edit or delete the tweet before it's posted.


I've found that this only works if you're posting a tweet from your profile page on Desktop (otherwise you don't actually see the tweet that you just posted.
The Undo feature is nothing more than a simple delay. It's delaying posting your tweet until the undo time has expired. It gives you time to edit or delete the tweet before it's posted.
Grade: B+. It works, but you're not truly "undoing" a tweet.
Bookmark Folders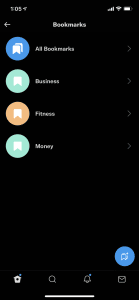 If you're a stickler for organization, this'll do your heart good.
On mobile (iOS and Android), create different bookmark folders to save your favorite tweets based on topic. Think of these folders as categories. Save each bookmarked tweet based on its category.
Note that Bookmark folders are only available on mobile (iOS and Android), not Twitter.com on the Desktop.
Grade B+. Works well. I would have given it an A if this feature were available on Desktop. But sadly, it's not.
Thread Reading Mode
If you're a fan of threads on Twitter (a main tweet with multiple comments posted in rapid succession to explain a complex topic), then you'll like the thread reading mode.
You'll see a button like this underneath the first tweet in a thread:

Click 'View thread in Reader' and Twitter will display a streamlined view of the entire thread (without ads or any like/RT icons between tweets). It'll look similar to a blog post.
Here's an example of what the Thread Reader looks like: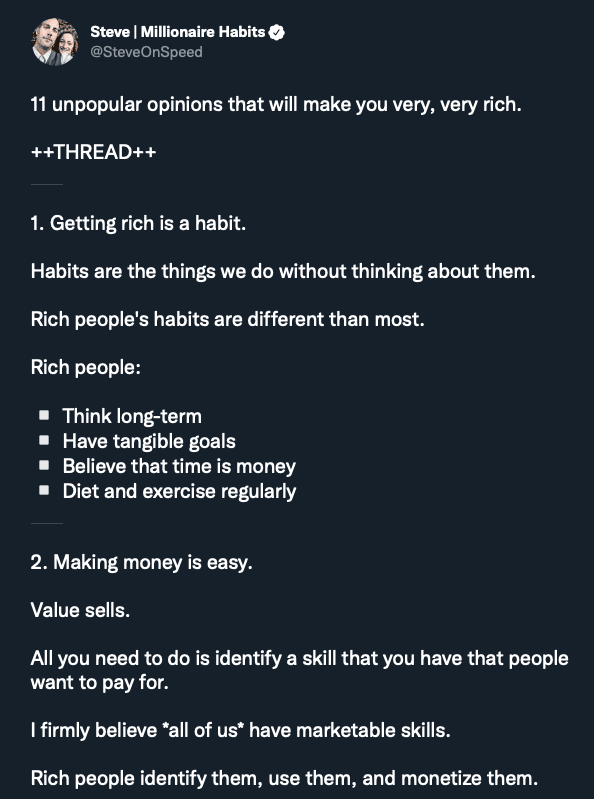 Grade: A. It's simple and easy to use. And it's available on all platforms.
Custom navigation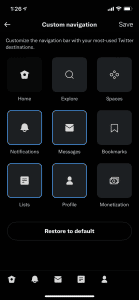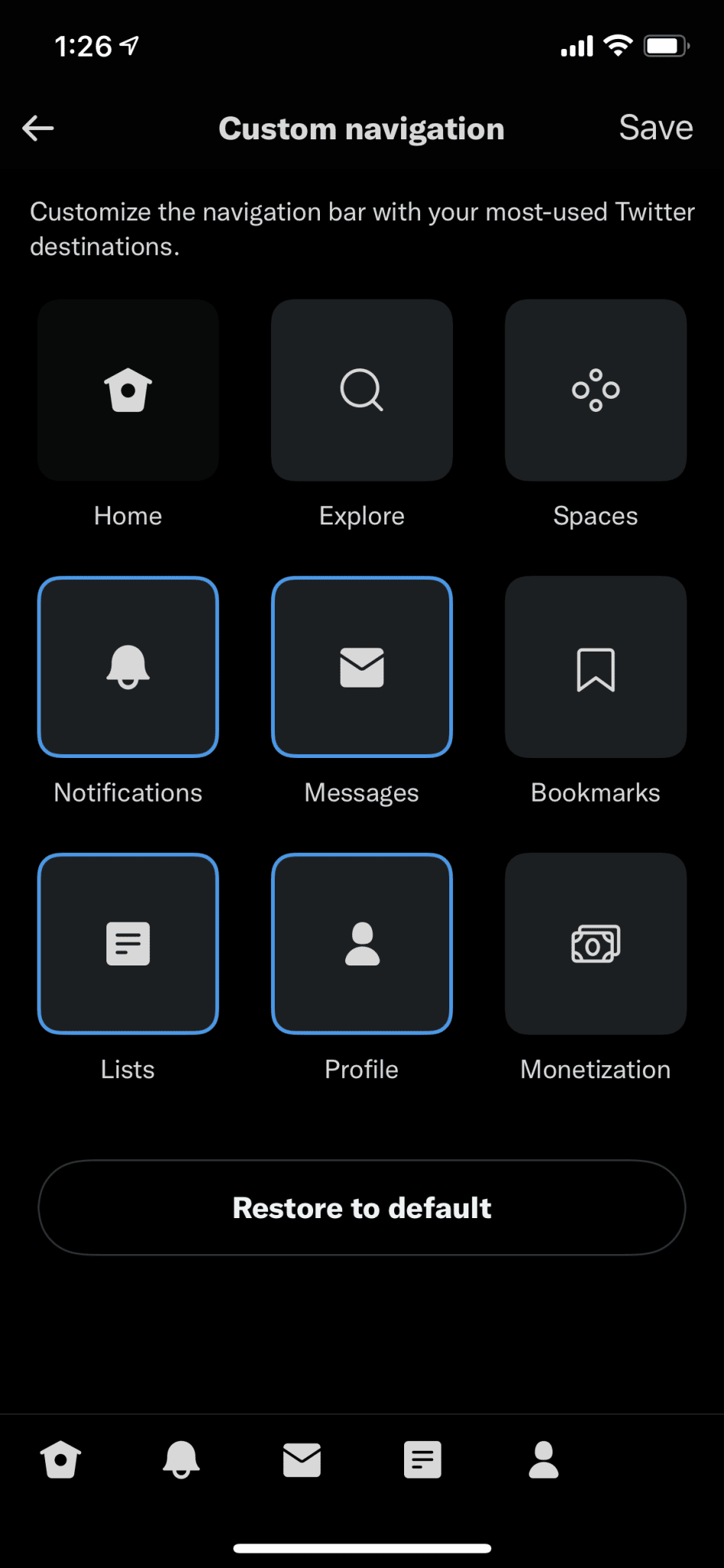 If you're an iOS user, custom navigation gives you the power to change the links that appear at the bottom of the app as you use Twitter.
From your iPhone, access the Custom navigation settings by tapping on your thumbnail image on the top left, then on Twitter Blue. Next, select the 'Custom navigation' choice and you'll get a screen that looks like this (on the right).
Tap the navigational elements that you want. They will automatically appear at the very bottom of the app as you tap them. You can't reorder the links, unfortunately.
Grade: B+. Great for iPhone users but not available on Android.
Application icons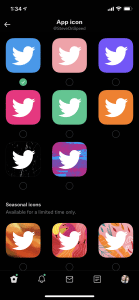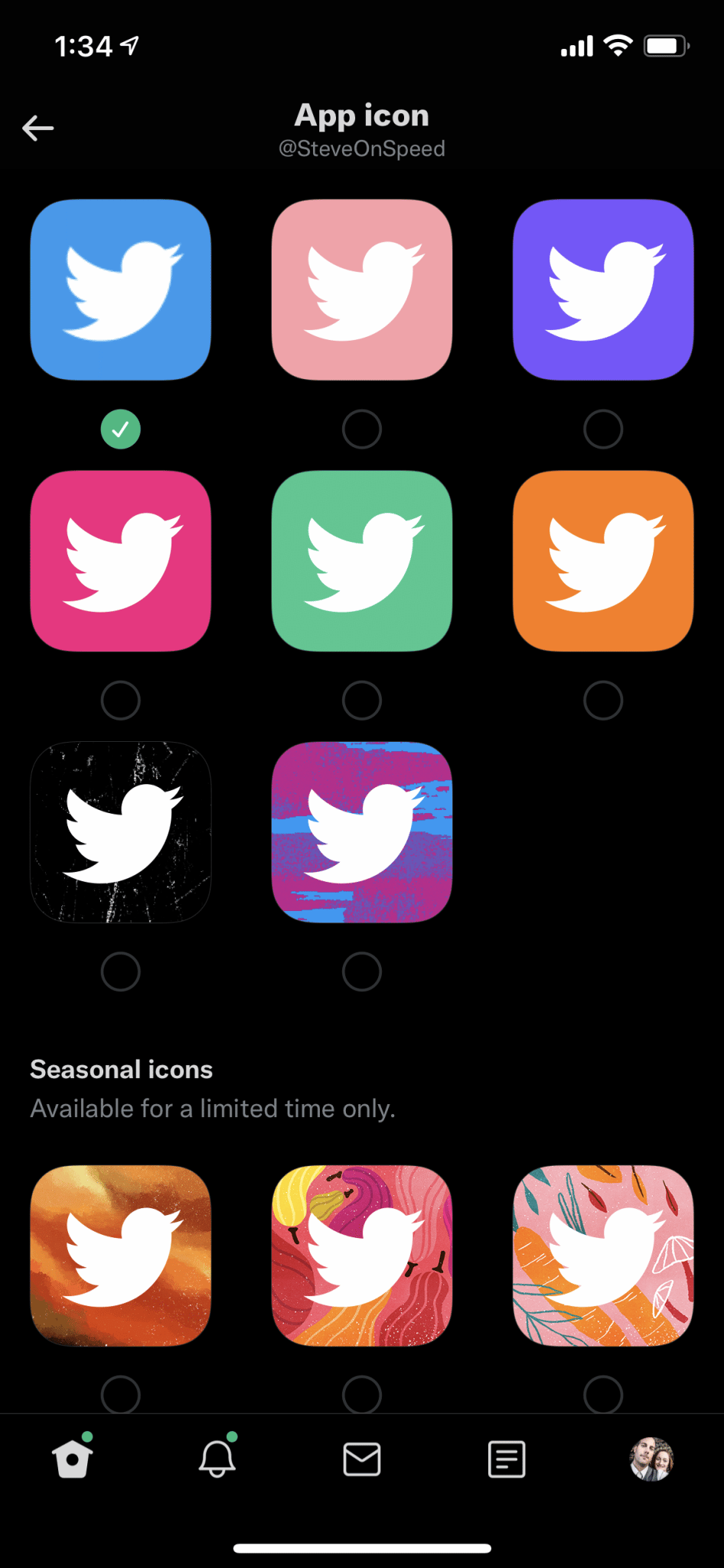 If you're an iOS user, you can change the icon that your phone uses for the Twitter app. I wouldn't say this feature is all that useful, just maybe an extra little thing that Twitter can claim is available for Twitter Blue subscribers. It works, but it's not all that game-changing.
Twitter does offer "seasonal" icons based on the time of year. Twitter will switch them out automatically, allowing Twitter Blue subscribers to choose holiday-based icons or other icons based on the season.
The screenshot on the right was taken November 9th, 2021.
Grade: C. Maybe a cool feature, but not very useful.
Top Articles
This is a cool little feature: The Top Articles page for Twitter Blue subscribers will show which articles were tweeted and shared the most inside your network. "When the accounts you follow Tweet, Retweet or Quote Tweet an article we'll automatically list the top 25 under your Top Articles," wrote Twitter.
The Top Articles link is available inside the Profile menu. It works on Android and Desktop.
Grade: B. Nothing mind-blowing, but still a cool feature.
Ad-Free News Reading
The Ad-free articles isn't something I used a lot because I don't pay attention to the news. But for those who do, this feature might be attractive. Twitter will display a distraction-free reading experience for sites within the "Twitter Blue Publishers Network".
Twitter uses browser cookies to make this work. When a site inside the publishers network reads your browser cookie that verifies you as an active Twitter Blue subscriber, the partner website will automatically remove ads and other distracting elements from the page, delivering an easier reading experience.
Grade: n/a. I didn't test this feature so I cannot give it a grade.
Is Twitter Blue Worth it?
There aren't a lot of cutting-edge features offered to Twitter Blue subscribers, but at its current price point ($2.99/month in the U.S.), it might be worth trying to see how you like it.
The ability to undo tweets before they are posted is a nice feature to have that could save you stress, especially if you typically discover typos right after you post a tweet.
The organized types will probably enjoy the folder bookmark feature and the Thread Reader is a vastly improved thread-reading experience built directly into Twitter for Blue subscribers.
My recommendation: Give it a shot. It's priced to try. If you don't use the features after a month, cancel your subscription and return to your normal Twitter experience.